Center ÜBERLEBEN has been treating victims of torture and war-time violence since 1992. The Center offers a broad range from rehabilitation programs for social integration of refugees and newcomers in Germany to facilitate their social participation. Women, men, adolescents and children receive both medical and psychotherapeutic help as well as social assistance. The people concerned come from over 50 countries including Syria, Afghanistan, Chechnya, Turkey, Iran, Iraq, Somali, Kosovo, Lebanon, Eritrea and other African countries. So that patients are able to communicate, specially trained interpreters assist in therapeutic treatments and other services at the Center.
Due to legal reasons, the outsourcing of operative activities of the "Behandlungszentrum für Folteropfer e.V." into a new legal form has been necessary. The registration of the Zentrum ÜBERLEBEN gGmbH took place in 2016.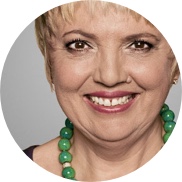 Claudia Roth
Claudia Roth has been the patron of the Center ÜBERLEBEN (former bzfo) since 2014.
(Photo: J. Konrad Schmidt)
History
1992
Founding of the Berlin Center for Torture Victims (bzfo e.V.)
1997
Founding of the Ueberleben Foundation for Torture Victims
2005
Cooperation with the Center for Migration and Refugee Services (zfm)
2008
Combination of these organizations under the umbrella of the Center UEBERLEBEN
2016
Change of legal status and transfer of all business operation of the registered association (bzfo e.V.) into a new legal form of a no-profit limited liability company – Founding of the Center ÜBERLEBEN gGmbH