Zentrum ÜBERLEBEN
Publications
Here you can finde a list of selected publications.
An entire list of publications since 2010 you can download here: PDF.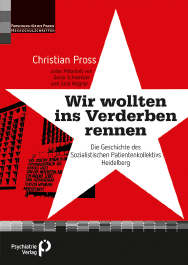 "Wir wollten ins Verderben rennen"
die Geschichte des Sozialistischen Patientenkollektivs Heidelberg 1970-1971
Christian Pross.
Köln : Psychiatrie Verlag, 2016
ISBN 978-3-88414-672-9
Psychotherapie mit Flüchtlingen
neue Herausforderungen, spezifische Bedürfnisse ; Das Praxisbuch für Psychotherapeuten und Ärzte
Liedl, Alexandra / Böttche, Maria / Abdallah-Steinkopff, Barbara / Knaevelsrud, Christine.
Stuttgart: Schattauer, 2016
ISBN 978-3-7945-3195-0 (Print)
978-3-7945-9023-0 (eBook)
Psychoedukation bei posttraumatischen Störungen
Manual für Einzel- und Gruppensettings
Alexandra Liedl, Ute Schäfer, Christine Knaevelrud ; mit einem Geleitwort von Andreas Maercker.
Stuttgart: Schattauer, 2014. 2. Aufl.
ISBN: 978-3-7945-2934-6 (Print), 978-3-7945-9023-0 (eBook)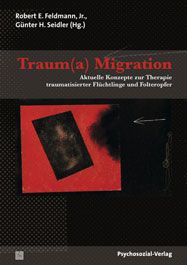 Traum(a) Migration
Aktuelle Konzepte zur Therapie traumatisierter Flüchtlinge und Folteropfer
Hrsg. von Robert E. Feldmann und Günter Seidler
Gießen : Psychosozial-Verl., 2013
ISBN 978-3-8379-2261-5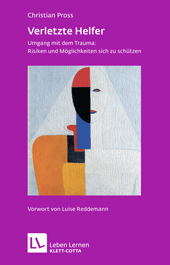 Verletzte Helfer
Umgang mit dem Trauma: Risiken und Möglichkeiten sich zu schützen
Christian Pross.
Stuttgart: Klett-Cotta, 2009
ISBN: 978-3-608-89090-7 (Print) 978-3-608-10398-4 (eBook)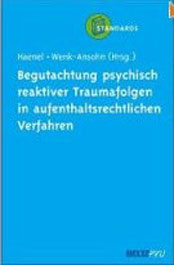 Begutachtung psychisch reaktiver Traumafolgen in aufenthaltsrechtlichen Verfahren
Hrsg. von Ferdinand Haenel und Mechthild Wenk-Ansohn.
Weinheim: Beltz, 2005
Download (PDF)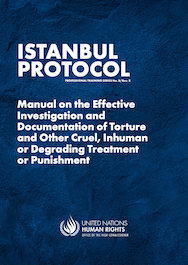 Istanbul Protocol
Manual on the Effective Investigation and Documentation of Torture and Other Cruel, Inhuman or Degrading Treatment or Punishment
OHCHR und u.a. ZÜ.
New York: United Nations, 2022
Zum Download als PDF
Das Unsagbare
Die Arbeit mit Traumatisierten im Behandlungszentrum für Folteropfer Berlin
Hrsg. von Angelika Birck, Christian Pross, Johann Lansen.
Berlin: Springer, 2002
ISBN 978-3-642-62864-1 (Print) 978-3-642-56086-6 (ebook)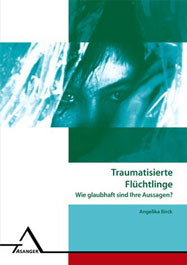 Traumatisierte Flüchtlinge: Wie glaubhaft sind ihre Aussagen?
Angelika Birck.
Heidelberg: Asanger, 2002
ISBN 978-3-89334-376-8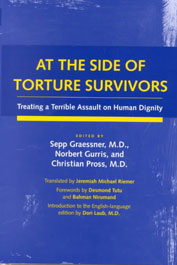 At the side of torture survivors
Treating a terrible assault on human dignity
Ed. by Sepp Graessner, Norbert Gurris, Christian Pross
Baltimore: Johns Hopkins UP, 2001
ISBN 978-0-8018-6627-2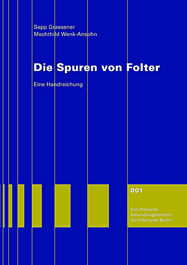 Die Spuren von Folter: Eine Handreichung
Sepp Graessner, Mechthild Wenk-Ansohn.
Berlin: Zentrum ÜBERLEBEN gGmbH, 2000
ISBN 978-3-9806790-1-5
Folter: An der Seite der Überlebenden: Unterstützung und Therapie
Hrsg. von Sepp Graessner, Norbert Gurris, Christian Pross
München: Beck, 1996
ISBN 3-406-39283-0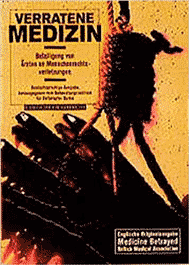 Verratene Medizin
Beteiligung von Ärzten an Menschenrechtsverletzungen
Hrsg. vom Behandlungszentrum für Folteropfer.
Berlin : Ed. Hentrich, 1995
ISBN 978-3-89468-155-5