This page is under construction. An English version of this page will be published shortly.
Internet-basierte Behandlungsansätze
Im Zuge der Situation im arabischen Sprachraum und der daraus folgenden Migration nach Europa, besteht nicht nur in aktuellen Kriegs- und Krisengebieten eine Unterversorgung von Menschen mit Traumafolgestörungen, sondern auch in Europa selbst (v.a. aufgrund mangelnder Arabischkenntnisse des klinischen Fachpersonals).
Das Projekt "Ilajnafsy" bietet seit 2008 aufgrund der Ortsunabhängigkeit die Möglichkeit, weltweit evidenzbasierte Methoden zur Behandlung von Traumafolgestörungen (d.h. Posttraumatischer Belastungsstörung und Depression) bei arabischsprachigen Menschen zur Anwendung zu bringen.
Die im Programm "Ilajnafsy" angebotenen Behandlungen stützen sich auf ein Therapiekonzept (Interapy), das als web-basierte Behandlungsmethode für Menschen mit posttraumatischer Belastungsstörung (PTBS) entwickelt und wissenschaftlich evaluiert wurde. Es beruht auf einem kognitiv-verhaltenstherapeutischen Ansatz, dessen zentraler Bestandteil eine Schreibtherapie ist.
Für das Programm "Ilajnafsy" wurde dieses Therapiekonzept für PTBS kulturell adaptiert und ins Arabische übersetzt. Darüber hinaus wurden im Rahmen von "Ilajnafsy" zwei Depressionsbehandlungen entwickelt: eine web-basierte Schreibtherapie und eine Selbsthilfe-App für iPhones (S.M.I.L.E.R.S., Download möglich im App Store).
Alle angebotenen Behandlungen von Ilajnafsy werden über ein programmeigenen, datengeschützes Webportal realisiert und wissenschaftliche begleitet.
Detaillierte Informationen über die Therapien und Teilnahmemöglichkeiten, finden Sie unter www.ilajnafsy.com
Anschauliche Informationen sind außerdem in einem Animationsfilm, auf den Sprachen Englisch, Arabisch und Arabisch mit englischen Untertiteln, abrufbar.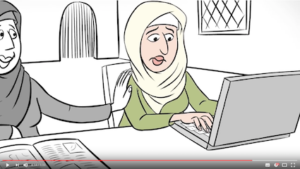 Förderung
Das Projekt wird durch MISEREOR und das BMZ gefördert.
Kooperationspartner
Freie Universität Berlin und Medical School Berlin